Join me this Saturday, October 13th , from 1pm – 6pm at Mysticat Creations home boutique, for a BEWITCHING SALE! I'm having this trunk show with my fabulous friend Rhianna, who is bringing her handmade beautiful prayers beads/ necklaces with charms and semi-precious gemstones. I'll have all manner of beautiful steampunk jewelry and hairpieces, wall art and sculptures and more. Enjoy a glass of wine and some homemade cookies as you shop for treasures.
Address: 2045 McKinley St, Eugene OR
RSVP if you like: karen@rainsongdesign.net
See you here!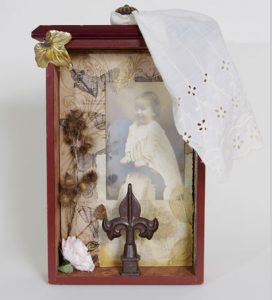 My art is a journey through different mediums and a multitude of inspirations. From my early works in painting and poetry to my newest creations in mixed media collage, art infuses my life. In 2013 I started creating jewelry inspired by steampunk style, and love to explore the world of cosplay and artistic creations. Brides love my jewelry for their steampunk weddings, and my jewelry is sold at local shops near Eugene, Oregon. Browse the galleries here to see samples of my work.
I currently am fascinated by the theme of storytelling and time; especially considering the timeless nature (and synchronicity) of faerie tales and personal stories. As a creative intuitive, magic, myth and story blend in my artworks, including photography, mixed media collage, found object sculpture, drawing/painting and writing. I hope you enjoy it! Please contact me for information about gallery shows and purchasing artwork.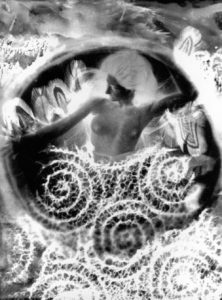 Browse the categories above to see art in different mediums. In the piece to the right, entitled "New Moon Dancer," I use my own process called "wetworking" in the darkroom to create unique photographic collages. See my blog above for more information.
Classes and workshops are held in the Mysticat Studios in my home in South Eugene. Each month I have a women's collage class with a different theme. I also offer light switch plate covers classes, jewelry making, and more! Check out the Studio Classes page for more info.